Posted by Rackmount Solutions on Jul 21st 2020
Counting Down the 10 Largest Data Centers in the United States
We talk a lot on our blog about data centers. How to improve them, how to start them, how to run them. But rarely do we talk about just how amazing the innovation of modern day data centers is. There are some pretty amazing data spaces here in the U.S. At Rackmount Solutions, we work hard to help contribute to growing data centers by providing quality, innovative, custom solutions for our customers. So to highlight all of the movement in the technology sector, we're counting down the largest data centers in the United States. Warning: you may want to schedule a road trip to see them all after reading this.
Starting at number 10…
10. Phoenix ONE- Phoenix, AZ (538,000 Square Feet)
This location serves as a data center and a corporate headquarters. This data center is the epitome of climate innovation with ultrasonic humidifiers and high efficiency chillers. It even has a massive spread of solar panels too!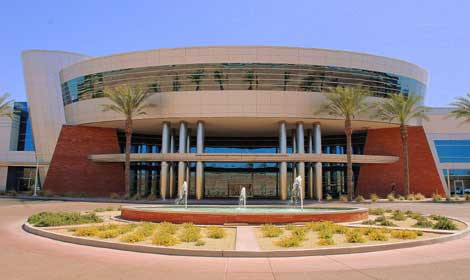 9. Microsoft Chicago- Chicago, IL (700,000 Square Feet)
This location brings together the present and the future into a seamless design. This two-level space can fit tens of thousands of servers. What's so shocking is that this data center is only run with 45 workers.
8. NAP of the Americas- Miami, FL (750,000 Square Feet)
In this data center, over 183 networks converge. Its tropical location is no concern though. This building is built to withstand category 5 hurricanes, and it has a lightening prevention system. Talk about disaster prevention!
7. QTS Metro Data Center- Atlanta, GA (970,000 Square Feet)
This building was originally a Sears distribution center before it was purchased to be used by Quality Technology Services (QTS) as a telecom and data center. This place has enough power to run an entire small island.
6. Facebook Prineville- Prineville, OR (1.1 Million Square Feet)
This is one of Facebook's 9 data centers that it uses to support all of its user information. This was Facebook's first energy efficient data center and Facebook continues to invest in efficient solutions and power.
5. NSA (Bumblehive)- Bluffdale, UT (1.1 Million Square Feet)
All kinds of surveillance data are living here! This location is sitting between two mountain ranges, which gives it ultimate security. This NSA data center has been called the "largest spy center" before because this is where they intercept phone calls, Google searches, and more in order to protect from cyber attacks or other national security threats.
4. The Lakeside Technology Center- Chicago, IL (1.1 Million Square Feet)
This building used to house printing presses before it was purchased for telecom use in 1999. There are many different companies and financial institutions whose data is stored here.
3. Digital Realty Ashburn Campus- Ashburn, VA (1.5 Million Square Feet)
This huge campus has 7 highly innovative buildings and even has room for 2 more! This data center is growing fast and will continue to grow with its support of cloud providers.
2. Ashburn Corporate Center- Ashburn, VA (1.6 Million Square Feet)
There must be something about Ashburn, VA… This campus has 6 buildings that are in the heart of the data center and technology row in northern Virginia. Dupont Fabros owns this huge data center, and they are spending a lot of money for it to keep growing.
1. Switch (Las Vegas Supernap Digital Exchange Campus)- Las Vegas, NV (2.4 Million Square Feet)
Last, but certainly not least, we have Switch's Supernap campus. This campus has 9 buildings with 3 more on the way. And as if being the largest data center in the country wasn't enough, and as if being located in Las Vegas wasn't enough either, they also have the coolest data center hype video you'll ever see. Watch it here.
Innovation is happening in the data center sector all over the country. With the growth of the IoT, cloud computing, and smart devices the need for large, energy efficient, innovative data centers is even more prevalent. At Rackmount Solutions we hope to continue assisting in the growth of data centers and the technology sector as a whole!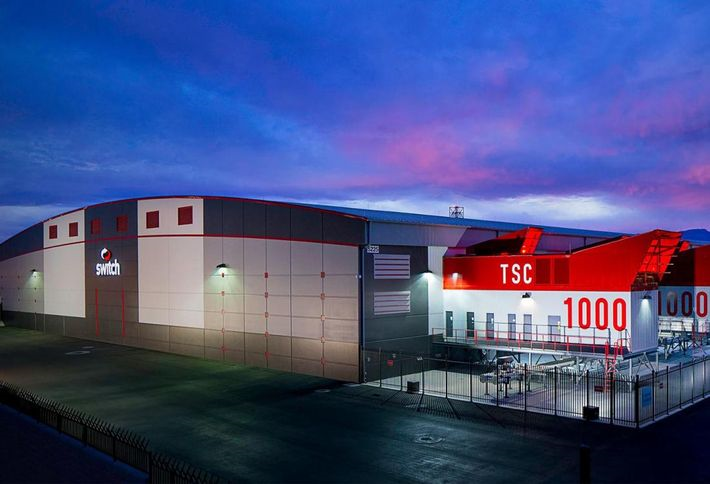 ---
COVID-19 and Growing Data Centers
Hyperscale data centers are home to tens of thousands of rack servers and hardware accompanied with virtual machines. A typical data center supports hundreds of physical servers and other IT, but these massive hyperscale centers are more efficient and effective. Around the world these centers are commonly found in Australia, China, Germany, Japan, and the UK, making up about 30 percent of the total centers in the world. Many countries such as South Korea and Switzerland continue to develop and add hyperscale centers for innovation.
As the coronavirus pandemic continues the effects on Amazon web services (AWS), Microsoft, and Google oracle seem to be untouched. These companies continue to spend billions on equipping new hyperscale data centers during this time. Google and AWS have accounted for the most new data centers in the last year. Towards the end of the second quarter in 2020 the number of hyperscale data centers in the United States has jumped to 541 (Synergy research Group).
According to John Dinsdale, the chief analyst at Synergy Research Group, in the past eight quarters there were 100 new hyperscale centers and 26 of those were in the first half of the year. These strong numbers are continuing to grow and exhibit the underlying stability of the services driving these investments despite the COVID-19 pandemic.
Dinsdale has expressed that Synergy has 176 data centers are in different stages of planning or building, and that wholesale data center operators and data center hardware vendors are in good shape.
As far as the public cloud of infrastructure goes, COVID-19 has not dramatically affected it as well. For example the global data center hardware and software infrastructure market fell to 36 billion, which is roughly a 2% drop in the first quarter of 2020. As 2020 continues the sales for public cloud infrastructure increase 3% year over year to 13 billion which accounts for the 37 percent of the total market in the first quarter of 2020.
Traditionally the US makes up 40% of the internet data center sites and cloud. Europe, Africa, Asia-Pacific, and Middle East regions follow with the highest growth rates. As COVID-19 continues data innovation continues to evolve and not let anything stand in its way.
---
Facebook's Data Centers
Facebook, being the social media titan it is, is continstant looking for strong data centers and recently named one in DeKalb, Illinois the 12th in the country. Facebook has operational data centers around the world. From Sweden to Ireland Facebook creates and manages these centers.
With an ongoing pandemic underway the newest project in Illinois has been advertised strictly online and Facebook continues to adapt to these new changes. As described by Facebook/s VP of data center strategy, Rachel Peterson, Facebook selects sites that are made for infrastructure, access to renewable energy, allow for a strong pool of talent, and have a set of community partners.
As seen in the past Facebook has operational sites in
New Albany

Ohio

Los Lunas

New Mexico

Nebraska
Facebook also has operated data centers on line in
North Carolina

Oregon

Sweden

Iowa

Texas

Ireland
---
Facebook's New DeKalb Data Center
As data centers grow and new technology is introduced new innovative equipment and centers are being introduced into the IT world. Facebook has been a consistent major player in inventive technology and has recently announced the plan to construct an $800 million data center in DeKalb, Illinois.
This plan has been 14 years in the making and was initiated by an LLC who was actively acquiring farmland 60 miles west of Chicago, this company is known as the Krusinski Construction Company (KCC). Dekalb was in the path of progress and Jerry Krusinski, the CEO of KCC, worked to bring in new infrastructure to the site.
This development came at the time of a major economic crash in 2008, and KCC had to respond to a record long cycle with a large number of requests for proposals, but those ended up at more business-friendly states. DeKalb was a former industrial town and lost much of its industry in the 1970s-80s and was economically hurt in 2008.
Finally in 2020, Facebook selected this site as the 12th U.S. data center (the first for Illinois), and it is projected to be finished in 2022. Since the 1970s, Moore's law, which states that affordable processing power will double about every 18 months, has held to be true. The United States has continued to produce computing devices that are cheaper, faster, and smaller. On the other hand data centers have developed at unprecedented rates, thanks to data that we create.
Krusinski took a portion of that site and knew it would be a suitable location for a data center, and Facebook has taken that land and will run the DeKalb facility on entirely renewable energy, a major innovative advancement, something Krusinski would have never expected. This facility will also run on 80 percent less water than other data centers and will be LEED Gold certified.
As this facility grows from the ground up the other half of the site (an additional 500 acres) sits waiting for industrial use. Krusinski expressed that he is eager to team up with Trammell Crow Company to develop this land.
It is clear throughout this process that hyper scale data centers are certified assets and all of these users are consuming and generating an ever-expanding volume of data.
If your interested in learning more about these data centers or interested in getting a center like this eqipped feel free to call 866-352-6631 or contact Rackmount solutions today!