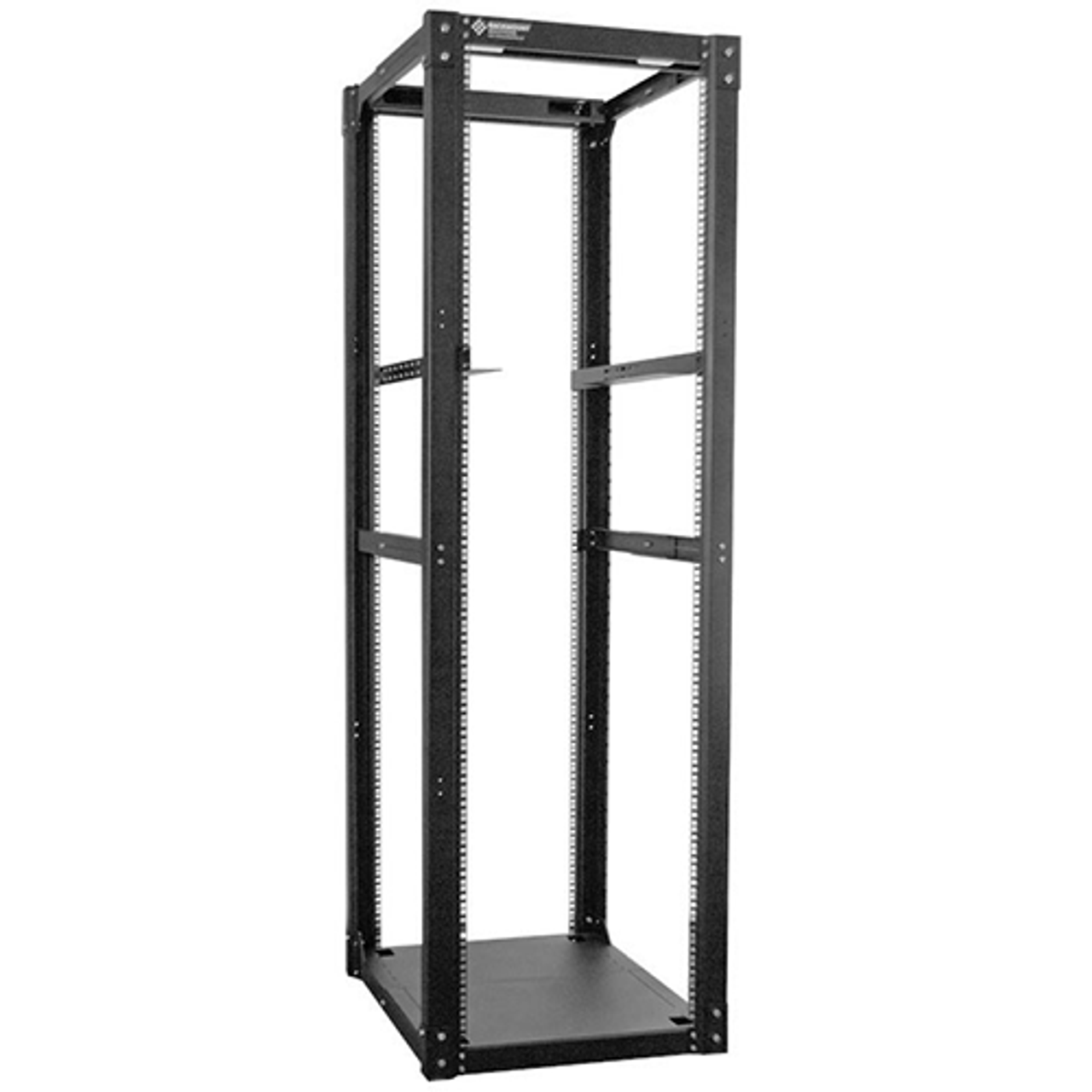 Learn more about Open Frame 4 Post Rack
Sometimes you just don't need a fully enclosed server rack cabinet and for that we carry a wide variety of 4 post racks with open mounting frames. All of these 4 post open frame racks are made in the U.S.A. of American Finished Steel for quality. Select from these 4 post server racks that feature top end weight capacity, adjustable rails, slim design for smaller server rack footprint, and more. Our wide variety of 4 post open frame racks each have unique features and design qualities.
Find the most popular 4 post racks at a single store. Rackmount Solutions carries Great Lakes Case, Hammond, Kendall Howard, Middle Atlantic, and we offer custom configurations if needed in any size, width, and depth. Need help finding a four post server rack? Our team of experts can locate the right size, depth, and strength to meet the standards for your 4 post rack equipment.
Need a Free quote or help on deciding which 4 post rack is best for you and your business? Call your dedicated account manager for 1 on 1 customer service at (800) 352-6631 or email us at sales@rackmountsolutions.net
Need Additional IT Information?
If you don't need a fully enclosed server cabinet, we have six 4 post rack frame series, each with its own distinctive advantages and features. Call (800) 352-6631 and we'll help evaluate which 4 post server rack suits your needs, both now and for your future growth.
Cruxial™ 4 Post Server Rack
Ideal for all rackmount servers, KVM switches, network equipment requiring the universal mounting hole. Super versatile "L" shaped mounting rail. The entire rack (including bottom plate) expands from 25.5" to 35.25" in usable rack depth. This 4 post server rack ships knocked down, assembly required.
42u - RS-4POSTRK - 4 post rack with bottom plate
24u - RS-4POSTRK-24 - 4 post rack with bottom plate
DSR Series 4 Post Double Rack
Offers the familiar equipment mounting features of a standard 2 post relay rack, with fixed 12-24 tapped rails. Adjusting in depth from 24" to 36"d, this rack is ideal for servers, hubs, routers, or power supplies. Ships knocked down, assembly required.
44u - DSR24-36-Round - 4 post rack
27u - DSR24-36-4 - 4 post rack
Slim 5 Series Server Rack
Medium duty, fixed 10-32 rails, offer narrow width for tight spaces. Rack is only 19 1/8" wide. Ideal for closets or ganging racks together in small areas. Comes in 8u, 14u, 21u, 29u, 37u, 43u. Offered in 20" or 26"d. This 4 post server rack ships knocked down, assembly required.
VRK Series 19" Gangable Video Rack
Middle Atlantic fully-welded gangable 44u enclosures combine quality construction and high weight loads. These narrow multi-bay racks are optimized for cable bundles. Designed for high-importance multi-bay installations, these racks are ideal for accommodating large cable bundles. Built in horizontal lacing bars are made from 1/2" thick tubing on 7" centers. Makes it easy for quick tie and slide lacing.
UL Listed. Static weight load capacity 10,000 lbs. They are also seismic Zone 4 certified for earthquake sensitive areas up to 750 lbs.
Cruxial™ 4 Post Server Rack Frame, 6 rails
This exceptionally fine rack offers serious versatility. It's the basis of our RS Series, RSP Series, FRS series, NEBS BellCore, A/C Cabinets, Co-Lo and Large Cable Bundle server racks.
The frame features 3 sets (6 rails) of universal vertical aluminum rackmount rails, all infinitely adjustable within the stationary frame. Move them in for equipment with protruding knobs, or mount your deepest item to first and third set of rails and keep the middle set for shorter items that still need to 4 point mount.
If you need security later, call and purchase doors, side panels, etc., to make a fully enclosed, locking enclosure. Comes standard with casters, levelers, and base. Unit ships complete, no assembly required. Available in 7 colors, custom configurations as needed, this open server rack frame is truly a superior product.
Dimensions listed are usable, external will be slightly larger.
Part number reads: 702030-L - 70 = internal usable height, 20 = standard 19" rackmount, 30 = usable depth, L = Frame
Back to Top