Posted by Rackmount Solutions on Oct 20th 2022
Think that you're the ultimate tough guy? Think again. Your server rack environment could be even tougher. And not in a good way. A tough environment can severely damage servers and other tech equipment if not protected properly. Harsh environments could include areas with no airflow, extreme heat, falling dirt, outdoor areas, unfinished warehouses, dusty areas, and many more.
How to Handle Harsh Environments: Finding the Right NEMA Cabinet to Withstand the Elements
To combat these tough environments and protect your valuable equipment you need a NEMA Rated Cabinet. NEMA cabinets are engineered to prevent dust, dirt, airborne particles, and other contaminants from destroying your equipment. Consider these harsh environments and the right NEMA enclosure for each.
Problem- Dust and airborne contaminants
Solution- NEMA 12: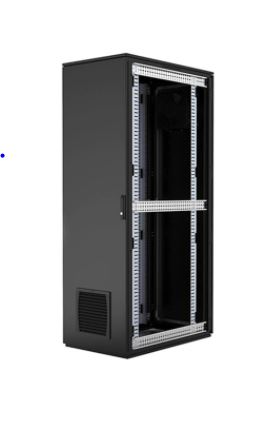 These cabinets are constructed of steel and are most commonly used in environments like warehouses, unfinished areas, manufacturing/factory floors, and production facilities. Really any place where there may be a little more crud floating around in the air than usual. These cabinets have gasketing on all of its seams and doors so that there's no room for contaminants to get inside. While normal cabinets have vent patterns around the doors and sides, NEMA 12 cabinets do not. These cabinets will also protect from light drippings or splashes of water. Depending on what is going inside of the cabinet usually some sort of cooling will be required, whether by fan or by AC. At Rackmount Solutions, we sell filtered fan and exhaust panels that can be used in conjunction with the cabinet to maintain the rating, as well as side mounted air conditioners. NEMA 12 cabinets are available in wall mount and freestanding configurations.
Problem- Outdoor environments
Solution- NEMA 3R:
These can be used both indoors and outdoors, but are most commonly used outdoors. NEMA 3R cabinets protect against dust, dirt, and other particles similarly to the NEMA 12 cabinets however, NEMA 3R are also rated to protect against harmful environmental factors like rain, sleet, snow, and ice. These types of cabinets are constructed of aluminum generally used for telecom applications, wireless/broadband sites, fiber optics, Wi-Fi, and trailer applications. Fans or an AC unit are also helpful for these enclosures, especially if your equipment generates any amount of heat. Heaters are also available for when the cabinet is going to be used in an especially cold environment, as excessive cold can be just as detrimental to equipment as excessive heat. NEMA 3R can be wall mounted, pole-mounted, or pad-mounted (freestanding).
Problem- Hose directed water or corrosion
Solution- NEMA 4 or 4X:
NEMA 4 and 4X are pretty similar to each other – they both address the concerns of NEMA 12 and 3R, as well as protect against hose directed water. NEMA 4X specifically can also protect against corrosion because it's stainless steel. NEMA 4 and 4X are going to be used for similar applications as NEMA 3R, and are also very popular for traffic enclosures.
Additionally, self contained A/C Cabinets are also a good solution for harsh environments and will also keep equipment from overheating. Check out our previous blog Keep IT Cool: Air Conditioned Sever Cabinets and Cooling Your Severs on A/C Cabinets to learn more about this topic!
Without a doubt, protecting your equipment is hard. And if your equipment is stored in a harsh environment then it is even harder. But these NEMA rated cabinets are made tough to function and protect in a wide variety of environments and conditions. Dirt, dust, water, ice, wind, dirt, and many other harmful elements don't stand a chance against these NEMA enclosures. To learn more call us at 1 (800) 352-6631 to talk to one of our sales experts about which NEMA rated cabinet is right for you. Tough environments call for even tougher cabinets. Do you have what it takes?
---
AC Cabinets: a HOT topic!
Servers can give off a lot of heat. Equipment can overheat quickly and cause many inefficiencies. Its important to make sure your data center stays cool! As temperatures get warmer outside, it'll be more and more im
portant to properly manage heat and energy in order to save money on your electric bill. And we believe that prior planning prevents poor performance. So, let us help you plan ahead!
At Rackmount Solutions, we sell many different A/C Cabinets that are custom design. A/C Cabinets are a great investment because you will ultimately be saving money in the long run on energy as well as avoiding potential failures of overheated equipment. We will design a solution that specifically meets your needs.
So, before the summer heat gets the best of you, contact us at 1 (800) 352-6631 or on our website to get your own custom A/C Cabinets. It's like that old saying: "if you can't handle the heat then buy an Air Conditioned Server Rack!"… or something like that
---
As power requirements increase, so does the heat that is being produced. Most IT equipment runs safely at an ASHRAE 80 degree standard, but even at this temperature, it can be difficult to keep a room, a rack, or a single server running within this range. Below are a few options based on your setup that can help keep your server rack equipment running properly without pushing your office air conditioner to the brink of extinction.
1. Server Rack Fans
If you need cooling around specific servers, you should consider adding rackmount fans or rack fan trays. These can be placed directly above or below the equipment to help syphon the air you need directly to the equipment that needs it. This is the most basic of server rack cooling.
2. Portable Air Conditioning / Server Rack Spot Cooling
Portable air conditioners are an excellent choice for both spot cooling on excessively hot gear or simply adding extra cooling power to a data closet or room. Available in multiple sizes with various cooling power, you can select the exact portable air conditioner you need for server rack cooling.
3. Rack Air Conditioner
If you have multiple racks, but only one includes the equipment producing excessive heat, consider a rackmount or side mount air conditioner. We like to suggest the Cruxial-Cool-42u which is an all encompassing server rack cooling cabinet. While this is not self-contained, this does an excellent job of pushing cool air directly in front of your equipment to breath on through.
4. Self-Contained Server Rack A/C
These custom designed and built to order server racks are self-contained where only the conditioned air will be supplied to your equipment. While these are more expensive, they are built to be self-sustaining and independent wherever they are placed. No longer will your hot IT equipment cause the rest of the environment to increase in temperature.
Are you ready to keep your equipment at a proper temperature with server rack cooling? Need help reducing the temperature in your data closet or data center? We're always ready to help. We've been sizing custom A/C cabinets for years and can walk you carefully through the process. Call today at 1-800-352-6631 or purchase any of these server rack cooling solutions online.