Posted by Rackmount Solutions on May 18th 2020
Are you looking to cool a server rack filled with blazing hot servers? Summer is almost here, and as things get hotter outside, they're getting hotter for the servers, switches, and routers that are not already in an ideal environment. Heat and dust slowly eat away at electronics, making downtime or a server failure more and more likely, and a system outage almost inevitable. Ready to protect your investment?
Air Conditioned Server Cabinets
Rackmount Solutions provides a unique solution in a custom sized and custom designed Air-Conditioned Server Cabinet. Rather than purchasing a "one size fits all" mistake, we dive deeper into your rack space to get an understanding of exactly how many BTU and U-Space you need. We've previously discussed calculating BTU needed to cool your data center or work space in a previous installment of: Keep IT Cool - How to Calculate BTU and Select the Right Portable Air Conditioner.
Whether you need a side mount or rackmount air-conditioned server cabinets, we can design the ideal solution. Whether it be a 10k BTU or 7K BTU air conditioned server, Rackmount Solutions has ideal equipment with a variety of size and space requirements. By cooling specific servers, you can pay for your investment and ensure that all of your equipment stays at appropriate temperatures.
NEMA 12 Standards
Equipment that sits in a closet, an office, on a shop floor, or in a field office trailer don't have to become prone to failure due to overheating or contamination and companies don't have to invest tens of thousands of dollars into costly HVAC systems to keep just a few servers, switches, and routers cool and clean. What's the solution for summer heat and year round dirt and dust? The air conditioned server rack from Rackmount Solutions!
Ready to consider an air-conditioned server cabinet? Talk to our personal account managers and find out what your next steps will be to relax and chill your equipment, or fill out our Air Conditioned Server Cabinet Checklist.
Manufactured to NEMA 12 standards, our air conditioned server racks can keep servers, switches, and routers cool and clean – in almost any environment. This server rack is built on a patented aluminum extruded frame and includes:
Complete gasket sealing for doors, panels and the air conditioning unit
MTemp 100 temperature display
Thermostat that turns fans on and off automatically
Wiring for a malfunction switch alarm (alarm not provided)
Rack or side mount air conditioning unit in 20K, 12K or 9K BTUs that uses CFC-free or environmentally safe refrigerant
Built-in condensate system that evaporates moisture to the surrounding air
High CFM blowers
Low-profile casters and leveling feet
A smoked Lexan front door with lockable swing handle (a solid front door is also available)
Steel rear door with lockable swing door handle
Removable side panels. Solid top panel and bottom panel. Textured powder coat finish
A Look At Cost Effective Solutions
Our 48u cabinet, with a side mount air conditioning unit, is a cost-effective cooling solution to protect equipment in summer – or any season. But there are several more ways to make your server cooling solution the most effective and efficient possible.
HOTLOK Blanking Panels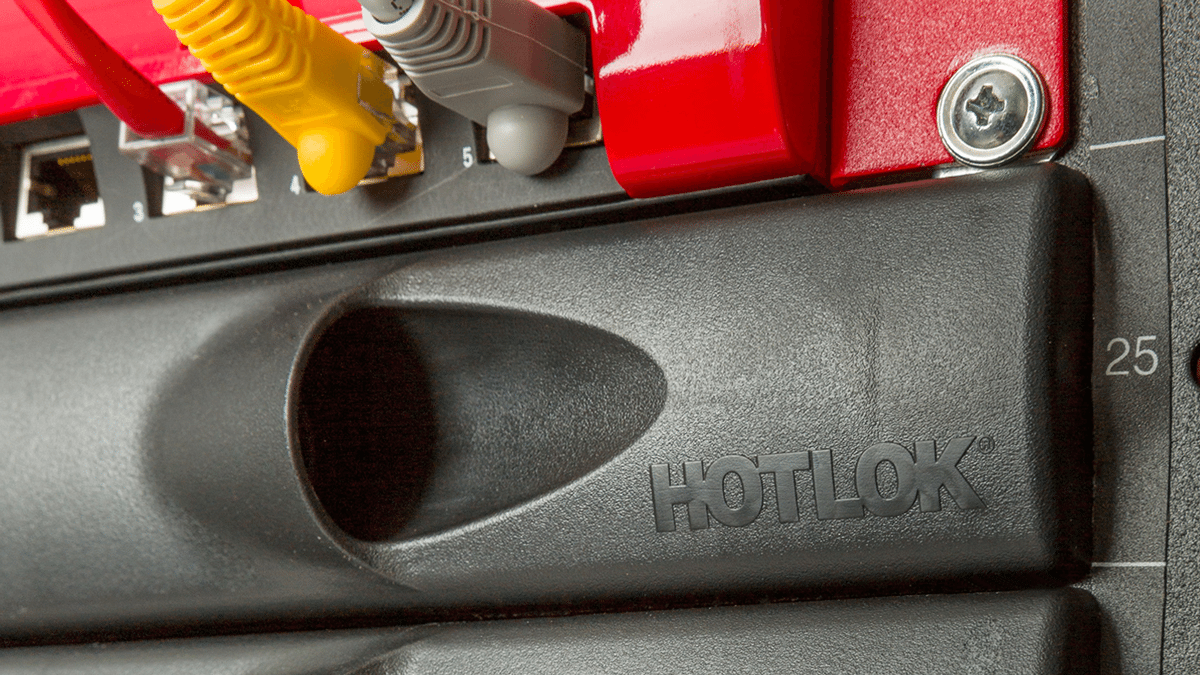 When populated with HotLok blanking panels our AC Racks are even more efficient and effective. The panels not only reduce hotspots and prevent equipment exhaust air from migrating to the air-intake stream at the front of the cabinet, they also lower temperature conditioned air to the upper one-third of the cabinet. This is the area that is typically the hottest – and where equipment failure is most likely to happen.
Rackmount Fans and More!
To meet all of your cooling needs and help you protect your equipment investment, Rackmount Solutions offers a variety of fan and fan accessory styles, sizes, prices and configurations.
Extra quiet fans that lower data center noise levels
Fan guards in sizes to suit different fans
Fan panel assemblies that accept one or two fans
Fan trays with three, six or nine fans that include filter, LED display and remote overtemp notification
Filter kits that mount directly over fans, are washable and can be used as filtered vent panels
Temperature displays that monitor internal enclosure temperature, provide LED readout and include an adjustable overtemp setting
Thermostatic fan controllers that vary the speeds of up to four fans based on temperature
Is this the server cooling solution you've been looking for?
More Cooling Tips For Your Data Center

If making changes to operating temperatures and improving the overall efficiency of your equipment isn't making enough of a difference, then it may be time to make changes to your cooling solutions. Some companies simply don't have good enough airflow in their data centers.
Making sure that air is circulating through your cabinets and the room properly will reduce your costs. A great deal of money is thrown away on cold air that just doesn't reach the equipment. If you can add filler panels and other add-ons to your cabinets and racks, then you can direct cool air to where it's needed most. This is a relatively inexpensive solution to cooling issues, and it could result in long-term savings for your company as a whole.
In some situations, equipment tweaks and adjustments simply aren't enough and you may need to invest in brand new solutions in order to get a better level of performance and more savings in the future. Replacing older electronics with newer models can be helpful in reducing costs over the long term. In an effort to create more energy-efficient servers, most major brands are manufacturing their products to meet EnergyStar guidelines and specifications. These electronics tend to require less cooling than their predecessors, so upgrading your equipment will lower your cooling and energy costs all around.
Getting Started
Efficiency should be the first thing you focus on when looking to cut down on data center cooling costs. Make sure your current cooling solutions are adequately lowering operating temperatures, but not to the point of being wasteful. Improving cooling efficiency is a great way to maintain short term and long-term performance. If you are ensuring that your equipment is cooled sufficiently, the likelihood of any component overheating will be greatly reduced, which is a surefire way to reduce the cost of IT equipment as well as power consumption.
Air-Conditioned Server Cabinet Final Tips
Rack mount models are ideal when it is important to keep an application self-contained within the server rack for security or aesthetic purposes.
Unique condensate management systems evaporate moisture from enclosure to ambient air eliminating drain tubes, buckets and wet floors.
High CFM blowers are used for maximum airflow throughout the server rack with complete gasket sealing for doors, panels and the A/C unit.
All air conditioning units are 100% functionally tested with mounting gaskets, drawings and instruction manual furnished, using a CFC-free or environmentally safe refrigerant that is universally accepted.
Lastly, these racks are made in the USA of American finished steel!