Posted by Rackmount Solutions on May 23rd 2019
Keeping tech equipment cool is an extremely important task in a data center. When equipment overheats, it does not operate at its highest capability, or it might even stop working all together. Cooling equipment is a task that can be made much easier with the right cooling technology. Americool manufactures superior cooling technology that is very popular among our Rackmount Solutions customers. With the hot summer weather coming up, and humidity levels rising until Fall, now is the time to ensure that your data center has the best cooling infrastructure.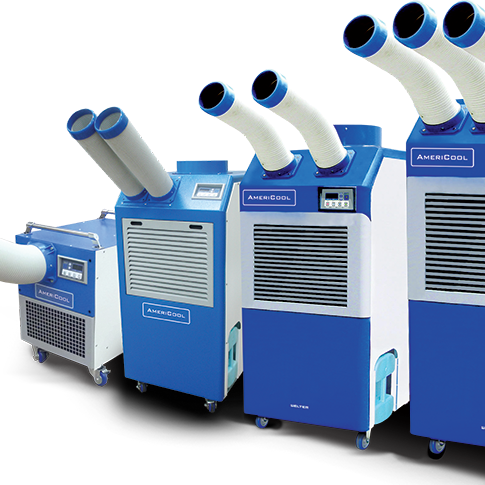 Which Portable Air Conditioner is Right For My Needs? How Is BTU Calculated?
With so many units to choose from, let's learn how to select the right air conditioner for your space. BTU stands for British Thermal Unit measuring the quantity of heat a portable air conditioning unit can remove from your room per hour. In order to select the right ac unit, we recommend you figure out approximately how much BTU you need to cool your space. To estimate the BTU capacity you will need is to follow these 3 steps:
First, determine the square footage of your space + Ceiling height.

Next, determine the total watts of your equipment.

Finally, determine how many active people are typically found in the space.
Now, put these three estimates into this formula (assuming an 8ft ceiling height):
BTU Size Needed =
(Room SQFT x 20) + (Equipment Watts x 3.14) + (Active People in the room x 400)
After calculating the result of this formula be sure to take into consideration the future growth of your equipment and data center size in order to prepare for future growth. In a server room or data center, there are a lot of watts generated from equipment. Determining what this number is can be challenging, but a best estimate is helpful. In some cases, a portable air conditioner is referred to as a 1 ton, 3 ton, or 5 ton air conditioner. The rule of thumb is 1 ton equals approximately 12,000 BTU. So for example, this 1 ton portable air conditioner offers 12,000 BTU in cooling capacity. Simple, right?
Here is our demo video further explaining BTUs and how to select the correct air conditioner for your requirements:
More Than Just Data Centers
Data centers are not the only place to use Americool portable air conditioners. These a/c units have been used in a variety of locations that get warmer than usual and need to be cooled. Such locations include industrial warehouses, food distributors, small offices, hospitals, and a variety of other commercial locations. Additionally, these coolers are built to handle harsh environments, which broadens their scope of application even more. So, you do not have to have a data center in order to purchase one of these quality cooling solutions. Their applications include industrial, commercial, and everything in between.
The Americool WPC-5RT is a portable outdoor 5-ton air conditioner at the most powerful end of the cooling spectrum. This unit is extremely durable and requires no additional installation. Its ducts are easily extendable so it will integrate seamlessly into a variety of applications.
The Americool WPW-4000 is a newer product that we've added to our product catalog at Rackmount Solutions, shown here on our partner site ServerRack.com. It is a water-cooled portable air conditioner that features spot and room cooled commercial air conditioner settings. The great benefit of this air conditioner is that it does not require exhaust ducts because it does not produce warm exhaust. Therefore, a solution to remove heat is not needed. This removes the additional cost of building of an elaborate cooling system. In addition, this product has a 16,000 BTU cooling capacity, and an operating range of 63 – 113 degrees. This application is great for areas where cooling the entire area is not practical. Rather, this unit serves as a great spot cooler.
Americool is known for its portability and ease of use. Through applying their easy-to-install products, any environment can be transformed with cooling power. With the summer heat in full force, it is time to ensure that your equipment operates at its highest level without overheating. To learn more about cooling solutions, or to find the right solution for you, call us at 1 (800) 352-6631 or Livechat with us on our website www.rackmountsolutions.net.