Posted by Rackmount Solutions on Feb 17th 2023
Most data centers are faced with space issues, and the question isn't one of needing more space, it's how to increase the space efficiently and affordably. Compared to building a new data center or retrofitting existing space, a modular solution can provide a cost effective and speedy way to quickly obtain additional space. Modular design also has the added benefit of meeting future expansion needs. Read more to decide if a modular desgined data center is right for you!
Modular Data Centers – Are They for You?
What are the major benefits of building a data center with modularity in mind? Why is it such a popular option right now?
Modular data centers – or data centers that are that are portable, pre-configured and set up inside of either shipping containers or other prefabricated housings – have become quite popular over the past few years for several reasons.
First and foremost, they are quick and inexpensive. By having a "cookie cutter" design, set-up and manufacturing time and costs can be kept a minimum, allowing them to be sold at a reasonable cost and to be deployed far more quickly than a traditional data center. They also have lower upfront costs than a brick-and-mortar data center.
Modular data centers are also built with efficiency in mind, some designs allowing for cooling costs that are significantly lower than those in a traditional data center. They also tend to have very low PUE ratings, sometimes as low as 1.12, which is an improvement from the 2013 national average of 1.65, as reported by the Uptime Institute. Another major benefit of modular data centers, and pretty much everything else in today's IT world, is their scalability.
How can a company know that data center modularity is a fit for them and that it's an approach they should consider?
A company might consider looking into a modular solution if:
1. They are unsure of their future needs: Building a conventional data center is a huge expense, especially if the company building it is uncertain of their future requirements. If the company is in need of a data center now, but unsure of what their needs will be down the line, a modular solution could be a great place to start.
2. Their budget is tight: As will be explained in the next question, modular data centers have much lower capital costs than brick-and-mortar ones.
3. Time-frame is a consideration: Companies that require either a new data center (or an expansion of their current one) but are short on time are the ideal customer base for modular data centers. These centers can be implemented within a matter of months.
4. A temporary increase in capacity is needed: For companies that might only need increased capacity seasonally, for certain projects, or only for a particular stretch of time, a modular data center could be a potential solution to consider.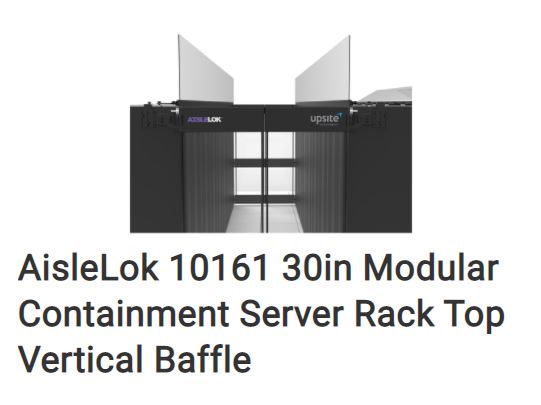 How does modularity compare in terms of cost and time to other data center building or redesign options?
There is a large delta between the cost of a modular data center and the cost of a traditional brick-and-mortar one, and a major selling point for modular data centers is the lower upfront costs versus those of a conventional build. This goes hand-in-hand with the scalability of modular data centers.
When planning the budget to build a brand new data center from the ground up, it is necessary to consider not only the capacity requirements needed now, but those that might be needed many, many years down the line – no one wants to build a data center that will only support their needs for five or so years. Modular data centers, however, allow you to purchase a unit that fits your current needs, then, after that five years has passed and you've outgrown the single module, you can simply purchase another. It allows you to take the large cost involved in building a data center, and break it down into far more reasonably sized chunks.
The time involved in building a traditional data center will obviously vary, depending on the size and scope of the project, but the general time frame for a ground-up build is from a year and a half to two years. The time frame for redesigning a data center cannot easily be averaged, since there are far too many factors to be considered (what specifically is being redesigned and how, the size of the facility, etc.), however it is safe to say a redesign would take several months at least. Modular data centers, though, can be ready to use within a matter of months. They are almost always the quickest solution to deploy.
What does a modular data center build or redesign entail? What should companies expect from the process and what should they do to make the process go as smoothly as possible?
While deploying a modular data center may seem simpler than building a brick-and-mortar one, it does still have its own considerations. First, you'll need to determine whether or not real estate is available. This is generally not too large of a concern, though, considering that modular data centers can usually be placed anywhere, such as in the parking lot or on a building's roof (given that you've verified its load bearing capabilities!). Security is an important consideration as well; modular data centers need to be monitored with the same stringency that a regular data center would, which will require the procurement of surveillance equipment that can withstand outdoor conditions. You'll also need to determine whether or not you want to supply your own equipment. Many modular solutions on the market allow you to purchase the servers along with it, which provides you with the servers at a lower cost versus buying them independently. However, this also adds upfront costs to the implementation.
If the modular data center is being procured to supplement an existing one, you'll need to ensure that sufficient power is available for the new systems. Some existing centers will have additional power and cooling capacity, and if so, it will just be a matter of making sure you are aware of how much extra capacity exists. However, if the existing center is already at capacity, you will need to plan for adding additional power systems to support it. Older buildings might not be able to support the additional requirement without upgrades being made.
Companies can help make the process go more smoothly by carefully reviewing the project budget ahead of time, and by being informed of their power demands and current capacity.
If you need server racks, rackmount accessories, rackmount or vertical power and UPSs, for your existing or modular data center, contact Rackmount Solutions, Inc. at toll free 1-866-207-6631 or email sales@rackmountsolutions.net
---
The Pros & Cons of Modular Design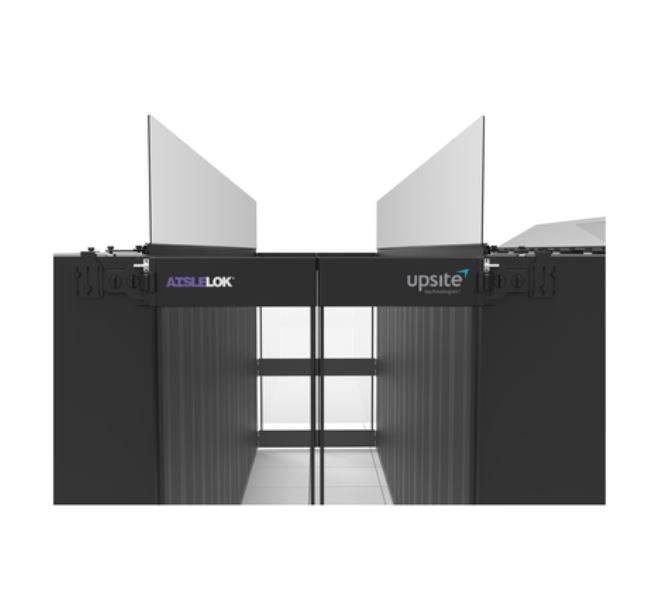 Modular design data centers offer various solutions such as pre-configured, and prefabricated shipping containers – either built completely or partially in the vendor's facility – they are typically outfitted to meet needs such as connectivity, power and cooling. Other benefits include the ability to expand as needs and capacity demands dictate, which has the advantage of freeing up long-term capital. Also, modular designs are more flexible and give companies the ability to change growth direction easily.
But there are a few disadvantages. Because it is a relatively new concept, many prefab providers have not really geared up internally to meet scheduling and security issues. Even though each customer has their own secured area within the provider's space, they share common areas such as the loading dock with other customers. In addition, sometimes a customer will need to pre-lease a space for expansion to make sure that it is available when they need it. These costs can outweigh the long term savings of modular solutions.
In a Processor.com article published October 5, 2012, Chris Crosby, CEO of Compass Data Centers and Lloyd Guillot, of TAS Energy agree that cost-wise, operating a modular design data center is on par with traditional solutions. But they say, it is the "option value" that creates the greater cost savings. To determine if a modular data center makes sense, companies can evaluate past growth patterns and the expected future growth pattern to determine if building in multiple, manageable phases makes short and long-term economic sense, Guillot says.
If your data center is small, but growing, CRUXIAL line of racks ensure maximum flexibility and value. Many of our customers start with open racks and then move to enclosed racks as security needs change. To learn more about growing with Rackmount Solution products click here.
---
Modular containment isn't a new concept, but it's certainly becoming much easier to utilize as opposed to just a few years ago. Upsite Technologies, one of the premier leaders on airflow management, has an ideal solution that can be installed, uninstalled, and moved around in minutes compared to construction and hiring a team to get this long desired containment.
Airflow management is a critical component of a data center. While proper cable management, blanking panels, and server utilization make a significant difference, containing a hot aisle / cold aisle configuration can make a remarkable change in your airflow. Legacy containment still provides marginal benefits compared the AisleLok system, but the greatest difference is seen when adding cabinets or relocating. Adapt, reuse, add on, the AiseLok allows for all of this, while the traditional legacy versions are an undertaking.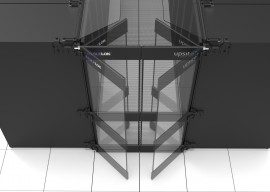 AisleLok Install
AisleLok simply uses magnets to attach aisle doors and baffles in seconds. In minutes you could have your hot and cold aisle contained and improving quality airflow. Minutes is not in the vocabulary of the legacy equipment.
For help planning your AisleLok system contact Rackmount Solutions using the form below or by calling us toll-free at 1-800-352-6631
---
Solutions – They're in Our DNA, and Our Name!
Since we began offering the industry's most comprehensive catalog of server racks, enclosures and accessories in 2002, we've been focused on providing solutions for our customers. In some cases that might mean simply coming up with the right server rack or enclosure that meets the unique needs of a specific customer – for example a soundproof, air conditioned rack for an office environment or small data center
However, in a number of other instances, our solutions, are an integral component of a solution offered by a systems integrator or equipment manufacturer for their customers. For example, our standard – and custom – products have been tapped by integrators, manufacturers and solutions providers for:
Government and military applications
Geophysical exploration (field trailers) in the petroleum industry
Cell towers and other applications unique to the telecommunications industry
PCI compliant applications in retail
Modular data centers and disaster recovery applications
In every instance, we worked with our customer/partner to help them design and deliver products that were cost, power and space efficient – and allowed them to differentiate their product or service from that of their competitors. Finally, our world class customer support and history of on-time delivery (99%) and customer satisfaction (99%) ensured that equipment staging and solution roll-outs were smooth and on schedule.
We'd like to help your company put together a unique solution that differentiates you from your competition. Call us at 866-207-6631 or email us at sales@rackmountsolutions.net.