Posted by Rackmount Solutions on Sep 1st 2021
As visualization becomes more prevalent, data centers have shown great improvement in the area of efficiency. Consolidation of servers has been very advantageous for reducing energy consumption and the effort to "go green" by both data center managers as well as equipment manufacturers has also helped to improve inefficiencies. It is important to evaluate and asses the productivity and effectiveness of your data center. Read below to uncover how efficient your data center really is and how to not only save money but find the best problem solving products for you!
How Efficient Is Your Data Center?
If a data center manager hasn't evaluated the overall data center efficiency, where should he begin?
The first place to look when finding ways to make your data center more efficient is at the most common culprit – Cooling. More often than not, improvements can be made to better direct airflow and eliminate bypass air, which helps greatly increase the overall efficiency of the data center. Check out our blog Keep IT Cool - Air Conditioned Cabinets and Cooling Your Servers to check out cost effective cooling solutions that Rackmount Solutions offers.
Next, a data center manager should review his power usage. Is there stranded power that could be utilized? Are there hot spots that need to be addressed? Finding out how energy is being used and what trends are occurring can help them best determine the way to reconfigure their equipment for increased efficiency. Managers should perform an inventory of their equipment – servers, switches, etc. Then isolate the outdated equipment and make plans to upgrade to newer, more efficient devices.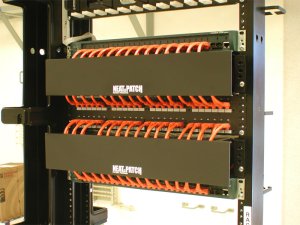 What should data center managers keep foremost in mind when upgrading to more efficient equipment?
Purchasing equipment that holds the Energy Star rating will ensure that you are investing in electronics that will improve the overall energy efficiency of your data center. The benefits of Energy Star rated equipment include, but are not limited to:
Efficient power supplies,

Advanced power management features

Typical ranges of efficiency from 92% to 95% for UPSes
---
Save Money On Your Data Center
The technology of yesterday didn't require much data to be managed. Today, we have laptops, cell phones and even, email. All of which we use, manage and create data.
Data accumulates, so Rackmount Solutions offers many products to help you maintain effective data centers with server racks, network cabinets and more.
Time is Money. Period.
When you have a faster system, more work is done. When more work is done, you save wasted time that employees may face when a slower system is used. This thereby affects the happiness of your clients. With a faster system, you can deliver a fast customer experience and exponentially grow your business.
More tips to help you save money with your data center, include the following:
Replace any expensive computer software, such as middleware: By using technology that is both lightweight and low-cost, you will gain faster results and much more value.
Pay close attention to your energy usage: By using energy-efficient power, making smart management decisions, you can save a whole lot of money. Rackmount power strips and cooling systems help minimize the chances of popped fuses and overheating.
Discard of any unnecessary data storage: This will decrease your costs and save you from any risks. Also, you'll face far less management challenges!
Taking proper measures to ensure that you are utilizing the best data server and network maintenance practices will positively affect your efficiency and lead to better service. Better service leads to more money!
Find Your Answer at Rackmount Solutions
From technical issues to disaster recovery and from security issues to every day concerns, we provide solutions to over 75,000 customers in the aerospace, telecommunications, finance, health & education, R&D and data center environments. Rackmount Solutions offers a solid line of products and a committed team who understands that "time is money."
---
Problem Solving Products
Whether you have a wall mount or server cabinet, whether you run a data center or have a small network closet, everyone encounters unique problems that seemingly don't have an answer. As we've been in business for well over a decade now we're familiar with size constraints, weight constraints, mobility constraints, depth issues, and so much more. Rather than deal with frustration every day let us help solve your problem with our unique catalog of products.
Example. 1 – Problem: Equipment is too deep for my rack.
Answer: Standoff Extender Rack Brackets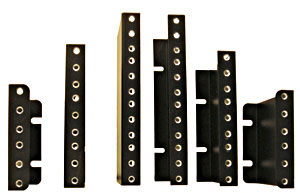 These brackets elongate 2u, 3u, or 4u of space providing 4″ of additional mounting depth to the rack. Some use this to extend power strips and cable management off the rack, others simply need a way to mount an extra deep server compared to the rest of their gear.
Example. 2 – Problem: I need to 4-point mount equipment on a 2-post rack
Answer:Two Post Depth Adapter
Are you nervous about your heavy expensive equipment mounting on a 2-post rack? These adapter kits add a great deal of stability and are available in 15″, 20″, 26″, and 31″ options.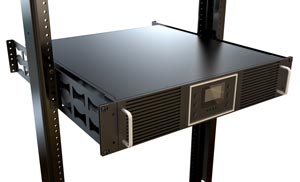 Example. 3 – The noise from our servers is deafening, but a dedicated space is too expensive.
Answer:Soundproof Server Racks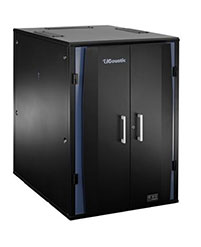 Soundproof Server Racks are aesthetically pleasing, remove heat, and keep your loud equipment at a whisper. Whether you need a full 42u down to 12u wall mount, soundproof server racks are a great option when you need to keep equipment in a more public place.
We're in the business of solving your rackmount problems. With a long tenured staff we've heard the standard, the strange, and the most bizarre requests, but we're happy to try and find a solution for you.
Contact us today at phone number 866-207-6631 or email sales@rackmountsolutions.net to learn how our products can help you save time, make money and keep your clients happy!