Solving Your Micro Data Center / Fog Computing / Edge Computing Problems
While there's debate over the name (Fog Computing, Edge Computing, Micro Data Center), the challenges and opportunities are still the same. Essentially all three of these names relate to having an on premise data center in a box that not only keeps sensitive material on-site, but packs additional power to compute, store, and analyze data at your location. Between the large variety of apps and business extensions moving to the cloud, there has always been a concern for not having the physical security on location to protect the data. The "Edge" allows just this, but it typically requires this micro data center to either be built into an existing closet / room or to be in a public area.
With the added cost of dedicating a room, we are seeing growing interest in aesthetically pleasing public data center cabinets. When you place a cabinet in a public place there are three main concerns: Security, Heat, and Sound. Our best in class UCoustic Soundproof Server Cabinet solves all three of these problems and more.


1. Security - How is this public rack safe?
The latest model of the UCoustic Server Rack Cabinet packs unique security and monitoring features well-beyond it's predecessors. Locking on all sides of the cabinet no one is opening this rack without key access. Better yet, the removable side panels are also securely fashioned. A new hinge system prevents these side panels from being removed without the doors of the unit being opened creating a dual-layer of security. The new "Edge" series of UCoustics also feature a build in Utelligent Monitoring System (UMS) which keeps track of the environment, power, and security. This UMS system allows you to view temperatures of your cabinet from anywhere with an internet connection. If you have heat sensitive equipment the UMS will allow you to setup an ideal range and trigger an email, text, or alarm any time the temperature exceeds the ideal value. With multiple UMS additions you can set up a camera to take images when the cabinet is opened, monitor fire, motion, power and much more. When looking for a cabinet for a public space these security features aren't a recommendation their critical.
2. Heat - How will this enclosed rack remove the heat from my servers and equipment?
The UCoustic Enclosure removes up to 12KW of heat from inside the cabinet, an industry best for a soundproof server enclosure. 12KW is a remarkable amount of heat dissipated, all in thanks to powerful fans in the rear of the cabinet which pull air through the front system and out the rear. Where does this heat go? Well in some scenarios customers have actually used the server heat to maintain temperatures in a colder room, but most will opt for the UC-DAX directional airflow kit which adds an easy to install duct kit to the rear of the cabinet. These ducts can then be funneled into the ceiling or wherever would be ideal for your environment.
"It is working better than expected. The noise is reduced more than I imagined. The internal core temperature of the servers is on average 5 degrees cooler than before. The room temperature is now easily maintained at a comfortable 70 degrees." - Tony
3. Sound - Server fans are deafening, how can I place this in an open area?
Server fans are absolutely deafening and obnoxious if you aren't used to the casual loud hum they produce. Luckily the UCoustic Soundproof Cabinet dampens this noise by up to 31 dBA. Imagine a loud restaurant taken down to a whisper, essentially this is the power of the UCoustic. Reducing the noise of your cabinet by an estimated 5x. Noise is critical for both your sanity and your health. Reducing server fan noise is proven to increase productivity, reduce accidents, cut hearing loss in half by reducing only 5 dBA, and it's vital for meeting health and safety guidelines. With a typical load of equipment the only way you would hear the fans would be to listen directly against the doors or sides.
"We believe that your product stacks up very favorably against others that we reviewed. The Rackmount Solutions cabinet is cheaper, dissipates more heat, and suppresses more sound." - Chuck
4. Looks - Is this going to look better than a traditional server rack?
The UCoustic is a sleek looking cabinet on its own with a Montana Blue trim and gloss black finish. The standard look is practically unrecognizable as a server cabinet, but better yet we have wood paneling designed to meet your aesthetic needs. This executive style finish makes your server cabinet appear more as an entertainment center than a housing for networking gear.
"Thermally, this thing looks like magic to me. The UPS, which was operating at an internal temperature of about 85 degrees at its old location (outside of and behind the old server cabinet), is operating this morning at 74 degrees in its new location (inside the enclosure along with both servers which are running)." - Bill
5. Cost - What's the ROI on a cabinet like this compared to a dedicated server room?
Building out a new room requires: Rental costs, air conditioning, room conversion (power, A/C, security, etc.) and time. With the UCoustic you have a data center in a box that rolls directly to the location you would prefer making deployment faster, easier, and more cost effective. For a smaller deployment at a private school in the North East, they purchased a single cabinet and saw a savings of $46,000 in 3 years. This is on the lower end of returns we've seen as many more are seeing six-figure returns in 3 years time. This certainly fluctuates based on your requirements and your size of deployment, but our UCoustic Soundproof Server Cabinet designed for Fog Computing, Edge Computing, or a Micro Data Center projects is an excellent alternative to a full server room build out.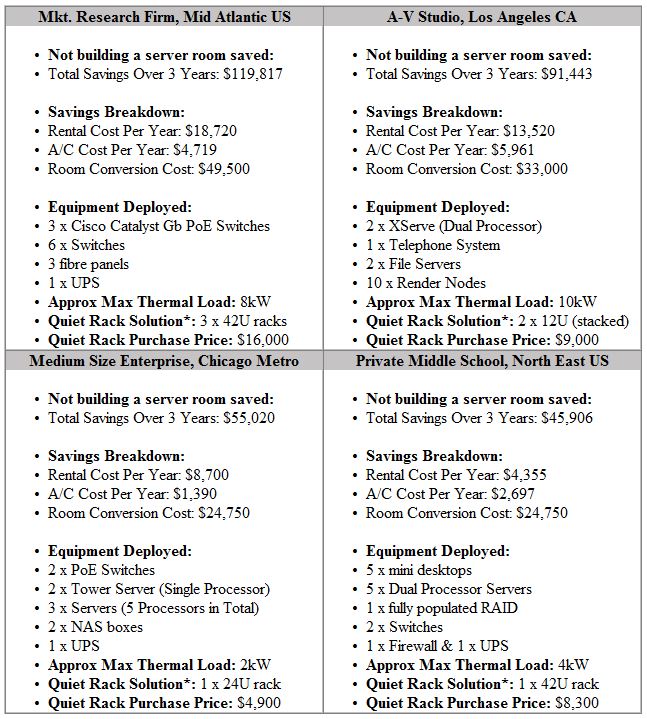 Discuss, Design, Deploy
If you are entertaining the idea of incorporating Micro Data Centers, Edge Computing, or Fog Computing, in your portfolio or business let's discuss the various options available through Rackmount Solutions. We have sound reducing options from 9u to 42u+. Need a unique depth or unique width for your equipment? We can also design a custom quiet cabinet to fit your existing equipment. Unique and specialty cabinets are what we do best. We can assist on a single cabinet deployment or help you plan for a scalable launch of 100s. If you want more information let's talk! 1-800-352-6631.
Contact Us!