Posted by Rackmount Solutions on Apr 13th 2022
Rackmount Solutions Server Cabinets
Server Cabinet: Multiple Choices for Multiple Applications
We recently talked about the importance of rack screws and their accessories in Control IT: Server Rack Screws and Accessories. While these are key elements it is important to find a server cabinet that fits your requirements. Rackmount Solutions lets you configure Server Cabinets to meet your exact needs. Our Server Cabinets are perfect for rackmount servers including those from Apple, Compaq, Dell, IBM, HP, & Sun. Let's take a look at the different server cabinets and racks that Rackmount Solutions offers...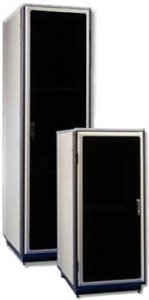 At Rackmount Solutions all of our server racks and server cabinets are user-customizable ensuring that you get the best server equipment rack for your requirements. It's easy! Just tell us the size of server rack you need and select the options you want. If you're uncertain, utilize our expertise and recommendations until you're confident you have exactly what you need! We will build, paint, and configure your server cabinet to your exact specification and ship it to directly to you.
NAICS CODE: 334112 / SIC CODE 3572
RoHS Compliant
Made in the U.S.A. of American Finished Steel
Compatible with Sun, Dell, HP, IBM, and Intel
Server Rack available in standard EIA heights, widths, and depths
---
Air Conditioned Server Cabinet
For Dirty Environments or areas where room air temperature is not adequate. Based on the standard, patented frame design of the RS server rack series, this Air Conditioned Server Cabinet allows installation of sensitive electronics in harsh environments.
This Air Conditioned Server Cabinet can be made in over 112 sizes. A/C units range from rackmount to side mount, 2K BTU units to 20K BTU. Rack mount models are ideal when it is important to keep an application self-contained within the server rack for security or aesthetic purposes.
Unique condensate management system evaporates moisture from enclosure to ambient air eliminating drain tubes, buckets and wet floors.
High CFM blowers are used for maximum airflow throughout server rack.
100% functionally tested.
Mounting gaskets, drawings and instruction manual furnished.
All air conditioning unit use a CFC-free or environmentally safe refrigerant that is universally accepted
Complete gasket sealing for doors, panels and A/C unit.
A/C thermostat turns A/C fans on and off
MTemp10000 Temperature Display
Rackmount or Sidemount A/C
Made in the USA of American finished steel
Daily Tip: Server Rack and Cabinet
"A rack is a rack" is simply not the truth. While there may be a large variety of racks that seemingly have the same black finish, ready to equip a standard 42u of equipment, and include screws or casters, simply not all racks are made the same. Various depths, cable management features, adjustable rails, rail type, weight capacity, restricted access, type of assembly, all of these are important factors in selecting a server rack.;
In many cases your application might have special needs, whether it's unique extra space for a cable drop or perhaps sound proofing or an air conditioner for your hot server rack equipment. The important part is to start with the basics and determine the height, width, depth, and rail type (Universal Square Hole, 10-32 Tapped, etc.) you need while always factoring in future growth. After the basics consider the features you might need including cable management, fans, door types, and weight capacity for the equipment you intend to install.
Basically our tip is to do adequate research and spend the proper amount of time spacing out the server rack as you would any other piece of equipment. If you need help finding a particular server rack, we have a catalog of options for virtually any environment. Click here.
---
Tune Up Media Loves Soundproof Server Cabinet
THE PROBLEM in Tune Up Media's Own Words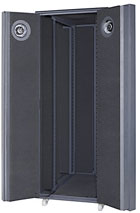 "I forget how noisy my office used to be, filled as it was with the white noise hum of 15 rack units' worth of switches, firewall, servers, 4-node NAS and UPS. I forget, that is, until I opened the front and back doors to the Ucoustic 9210 Soundproof Server Cabinet during a routine server maintenance window.
THE SETTING: OPEN WAREHOUSE
My office is in an open, warehouse-style building with 20-foot ceilings, made to amplify noise from my previous open equipment rack, so noise reduction was the first problem I had to solve. Second on the list was concern that a noise-reducing cabinet would have adequate ventilation, especially lacking forced-cooling in our environment, but tempered by moderate San Francisco weather.
LOOKED AT EVERY SOUNDPROOF SERVER CABINET SUPPLIER
When I chose the Ucoustic cabinet, it was after a couple weeks of assessing the options of every possible sound-reduction cabinet vendor, and also after calculating the thermal output (about 12K BTU/hour) and 85+ dB of noise generated by my equipment. We were immediately surprised with the noise reduction — from 85+ dB mentioned above to 65 dB when standing next to the cabinet.
CONCERNED ABOUT HEAT
Cooling inside the cabinet proved to be tricky until I placed the temperature gauge in the Ucoustic near the ceiling of my cabinet. As this gauge regulates the speed of the fans on the rear doors of the Ucoustic, it signals the fans to rotate faster when higher temperatures are detected.
JULIE'S HAPPY AND SATISFIED
Overall I've been satisfied with the noise reduction and cooling provided by the Ucoustic 24u soundproof server cabinet and feel it was the best solution for my problems."
Julie Russell, Tune Up Media
PRODUCTS THAT PROVIDED THE SOLUTION
UC24Active 24u Soundproof Server Cabinet; FB1, 2 and 3 blanking panels (to help direct airflow); HW1032-100-CageNuts a 100 piece 10-32 rack screw and cage nut kit
ABOUT TUNEUP MEDIA
TuneUp Media was created for music lovers, by music lovers, with the sole purpose of creating a better digital music experience for everyone. Their flagship product has quickly become the #1 selling plug-in for iTunes (though they also love and also support Windows Media Player), and has amassed millions of registered users worldwide. They are constantly striving to create new ways for us all to get the most out of our music. All from their not so little warehouse in the heart of San Francisco's Mission District.
Are you considering a server cabinets? Talk to our personal account managers and find out what your next steps will be to relax and chill your equipment. Contact us or visit rackmountsolutions.net