Posted by Rackmount Solutions on Apr 17th 2019
Your uninterruptible power supplies serve a major purpose, but without proper UPS maintenance you can open the door for a slew of potential problems. Every data center manager and employee is afraid of one word: Downtime. Every minute of downtime is potentially $7,900 out the window, not to mention the anxiety on you as a manager which isn't necessarily quantifiable.
UPS Maintenance
It is important to follow maintenance when controlling your UPS. Read below for the basics on how to control and maintain your products.
Call in the UPS Maintenance Experts
When you plan to look at UPS maintenance and system repairs, it's best to step back and realize if you are qualified and have a full understanding to complete a thorough check. You should be an expert with UPS training classes or a certification if it's anything outside of a basic task. Especially during downtime, the best thing to have prepared would be the number for your UPS experts. When every minute counts, don't let pride keep your data center down, call in the experts.
Performance Monitoring and Planned Checks
Just like any data center equipment, checking for common issues should be a top priority – Monitoring connections for overheating, capacitors starting to bulge, batteries on the brink of failure, all of these should be routinely checked. Look for the parts that were designed to eventually fail and need to be replaced, such as batteries, filters, capacitors, and fans. Don't wait for these items to fail, but replace them before their life cycle comes to an end. In an ideal world, have replacements prepared rather than spending your budget on shipping costs to overnight these parts.
If you need help forming a routine and stocking replacement parts on-site, we can help. Talk to an expert at Rackmount Solutions by calling 1-800-352-6631 or simply complete the contact us form below.
---
Power Interruptions? Not with this UPS!
The primary question IT should ask when buying UPSes is what level of protection is needed, says Brett Femrite, Director of Business Development at Rackmount Solutions.
A basic surge protector/suppressor will go a long way to protect your equipment from pow
er spikes and surges, but in the case of power outages, you need to look at a UPS.
Capacity-wise, Femrite advises to purchase a unit that exceeds your total power requirement by 20 to 30%. This not only ensures capacity coverage but will also allow some room for growth if/when you add additional pieces of equipment. When runtime is concerned, it can be a great cost savings down the road if you factor in future expansion and buy a UPS that offers the ability to upgrade or add additional batteries if/when needed.
UPS types…
Standby

Line-interactive

Online models
Rackmount Solutions offers several UPS units to choose from, including Xtreme Power UPS.
---
Small Server Room Power
When deploying a small server room one of the first items on the list to consider will be power. Typically in a small server room power consists of an uninterruptible power supply (UPS) and power distribution. While there are multiple types of UPS to select from, the most common types for a small server room will be a Line-Interactive UPS. This is a much different design compared to the stand-by UPS which is frequently used at the desktop level.
With this type of UPS when line power is in operation the inverter/converter will charge the battery, staying ready for a power failure in which it then begins working in reverse supplying short term power from batteries. Based on this design you are able to achieve much faster responses to a power failure. For smaller power requirements of 0.5 kVA to 5 kVA this is the lowest cost and highest reliability for a small server room.
Important Questions
When selecting a UPS it's important to understand your power requirements and necessary features. A few questions to consider include:
What are my power requirements? Voltage & Watts
How will you mount this? Rack, Stack or Tower?
How many outlets/receptacles do I need?
Do I need any specific certifications? UL Listed, Energy Star, etc.
Power Distribution
The other half of the equation is power distribution. In this case you would need to determine if you plan plug your IT equipment directly into the receptacles on the back of the UPS or if you will be adding a power distribution unit (PDU) to your rack and plugging this into your UPS.
---
Office UPS's – More Important than Ever!
The Internet, VoIP and wireless networking have changed how we communicate. Many small business owners might not realize however, that these earth shattering technologies have also changed their requirements for power and surge protection.
If the Power Goes Out
In the old days of the PSTN (Public Switched Telephone Network), telephone handsets were powered by the telephone network itself. But VoIP handsets – and WiFi routers – are powered either by an external power adapter (plug in the wall) or by PoE (Power over Ethernet). Enterprise-level corporations usually purchase PoE –enabled switches and protect power to phones and WiFi routers using large, scalable UPS systems in their data centers. However, many small business owners haven't invested in, or felt they had the need, to purchase switches that utilize PoE to power phones and wireless networking components. So if the power goes out, it won't be just desktop computers that will be affected. The phone system and the network will go down as well.
Lost Revenue
For most small businesses losing their phone service – for even a short period – could mean lost revenue and unhappy customers. That's why at Rackmount Solutions, we recommend that every small business owner protect their systems – and their businesses – with UPS battery backup.
UPS Options For Small Business
There are a number of UPS options that are designed for small business. One of our favorites is the Minuteman® PRO-LCD™. Available in three models, the PRO-LCD™ includes: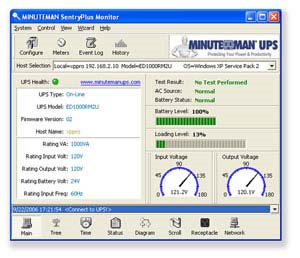 Six battery and surge outlets

AC input power cord

AC input circuit breaker

Two surge only outlets

USB communications port (for use with Minuteman's SentryPlus management software which is included at no extra charge)

Phone/fax network ports

LCD status display which details: o Input/output voltage and frequency o Load capacity o UPS and battery mode/status o Estimated runtime based on connected load
PRO-LCD™ models vary load capacity as detailed in the table below.
| | | | |
| --- | --- | --- | --- |
| Model | PRO500LCD | PRO700LCD | PRO1100LCD |
| VA-Watts | 500-350 | 700-490 | 1100-770 |
| Battery Module | BM0048 | BM0049 | BM0050 |
| Runtime: Full Load (minutes) | 5 | 7 | 7 |
| Runtime: Half Load (minutes) | 17 | 21 | 21 |
Priced from $130 to $250, the Minuteman® PRO-LCD™ is an inexpensive way to ensure that your customers can reach you – even when the power company can't.
Can't Decide? We Can Help
Puzzled? Can't decide which UPS is best for you? Let one of our experts help you find the UPS that meets your needs for today – and the future. Contact us at 1-866-207-6631 or sales@rackmountsolutions.net.