Posted by Rackmount Solutions on Oct 5th 2021
Looking for a solution that doesn't leave your valuable equipment out in the open? Server enclosures are the answer! Enclosures might remind you of a cabinet or a wardrobe. These enclosed server racks are designed to keep your equipment safe and contained in comparison to an open rack. They can hold large amounts of weight and are lockable on all sides for the best protection. Additionally, Rackmount Solutions can help you design the perfect custom enclosed rack to meet your needs, indoor or outdoor. Just let us know! We are happy to help.
Server Enclosures: Strong and Durable
Keeping Your Equipment Enclosed and Your Options Open: Server Enclosures with Tons of Features
Size:
These server enclosures come in a range of sizes from 22U to 48U, as well as a range of depths from 20 inches of depth to 48 inches of depth. If needed, some of these data cabinets come in extended widths for cable-heavy applications, and like we said before, these data center enclosures have unparalleled weight capacity. Some of these cabinets can hold up to 2,300 pounds.
Options, Options, Options!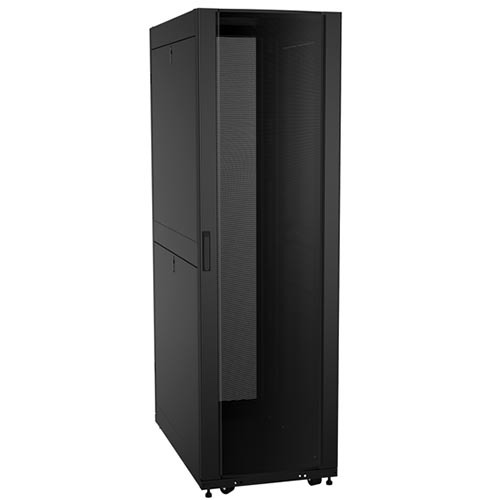 Our data rack enclosures are available in either economically priced stocked configurations, for when you need the usual features, or custom-designed configurations for when you have special requirements in terms of size, function or features, color, or really anything else. Pretty much, if you find what you need on our website then that's great! Those server racks are available with all of the normal features. If you don't find what you need on our website, then don't freak out! We can easily custom design an enclosure for you so that you can have the exact measurements, functions, designs, and more that speak to your needs. Want a purple, 32U server rack enclosure? Okay. Want a 12U rack enclosure with an extended width and glass doors? Okay.
And there are even more options that what we just talked about! There are many different door styles: solid, perforated, Plexiglas/Lexan, vented, or glass. We also have specialty server enclosures available, such as sound dampening (which we talked about in Keep It Quiet about UCoustic Cabinets), climate controlled (like our Cruxial Cool Air Conditioned Racks), co-location, NEMA rated and seismic rated (you know, for earthquakes and stuff).
Free Shipping!
I know what you're thinking: there's no way that Rackmount Solutions will ship server enclosures to me for free. Well, we WILL ship certain server rack enclosures to you for FREE! If you have prior experience with purchasing server racks, you know that LTL shipping can cost a lot, and if you're ballin' on a budget then it can really limit the type of enclosure you are able to buy. We offer two server racks that ship for free. One of these is a 42U enclosure and the other is a 48U enclosure. These data center enclosures are both manufactured by Hammond (read this for everything you need to know about Hammond), and they have weight capacities of 2,300 pounds. This is a HUGE deal with HUGE savings. This could save you more than $700 on shipping. Think of everything you could buy with $700!! That will get you like 100 Chick-fil-A meals…. That's lunch for the whole office!!!!
It is possible to keep your equipment enclosed no matter your needs or budget. There are so many options available to you at Rackmount Solutions. So, whatever needs you may have when it comes to server rack enclosures big or small, we've got you covered. From common racks to custom racks, we will guide you along the way. Head to our website to shop Rack Enclosures.
---
PCI Compliant Server Enclosures Can Save Space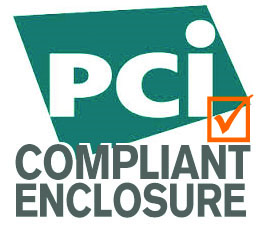 Many of Rackmount Solutions' wall mount and portable enclosures are PCI Compliant! Most consumers don't even think about the safety of their personal information when they swipe their credit card at a store, restaurant, or hotel, but for merchants and processors, the safety of that information is paramount. Not just because of the PCI Security Requirements mandated by the major card providers (American Express, Discover, JCB, Master Card, and Visa), but also because the security and safety that is the result of PCI requirements drives the U.S. economy.
Stores, restaurants and hotels can however, sometimes find it difficult or expensive to comply with the PCI requirement that requires restricted physical access to cardholder data. Stores, restaurants and hotels are busy places. Employees, vendors, contractors, and customers are constantly in and out of the facility – and even the best security system can't keep an eye on everyone.
One way to restrict access might be to construct a separate computer room, but, floor space is at a premium and is needed for money-making activities like floor displays, food preparation and dining areas, and guest rooms. That often makes this method an expensive "no go".
At Rackmount Solutions, we think there's a simpler, less expensive way. House all server, storage, and networking equipment in one of our PCI compliant enclosure wall mounts, desktop, freestanding or portable racks. Every enclosure is built tough with solid steel or aluminum frames and panels. And every door on every enclosure comes standard with a strong, keyed lock. Just as importantly we offer enclosures in a variety of space saving shapes and sizes, configurations (vertical mount, swinging door, server side mount and even corner configurations!) that are priced to ensure that PCI compliance won't break the bank for the largest chain store or the smallest dining establishment.
Because we believe PCI compliance is such an important issue for our customers in the retail and hospitality industries, it not only discusses some of the hidden issues that surround PCI physical access restrictions (Did you know that the biggest threat to cardholder data is employee error?), it also profiles all of our PCI-compliant products.
---
PCI Compliance — Why is it Important?
If you're an online retailer and accept debit, credit, prepaid, ATM or POS cards as a payment method, you need to be PCI DSS compliant. But what does that mean exactly, and why is it so important? PCI stands for Payment Cards Industry, and DSS is the Data Security Standard that makes sure customers' credit card information is secure during transactions. If you accept credit cards, it's imperative that you are PCI compliant, no matter the size of your company or what industry it's in. Businesses that aren't PCI compliant risk data security breaches, which can result in fines up to $500,000 (per incident!), resulting in your company being prohibited from accepting credit cards, and possible lawsuits from unhappy customers, not to mention the remarkable damage to the company's reputation.
While most merchants tend to worry about hackers and viruses when considering card holder data security, one of the most important areas of PCI compliance is the physical security of that data. Studies have shown that a surprising 69% of all security breaches were caused by either an angry employee or a simple mistake, both of which can be avoided by making sure your server, storage and networking equipment are all physically secure.
This is where Rackmount Solutions can be of help. We offer a wide range range of PCI compliant server racks, cabinets, and wall mount enclosures. If you are interested in discussing what rack might be the best fit for your needs, contact one of our experienced account managers at sales@rackmountsolutions.net, or call toll free at (800) 352-6631.
---
Try an Outdoor Telecom Enclosure
If you are in the telecom industry, Rackmount Solutions should be at the top of your procurement list. Not only can we provide all of your internal networking equipment, but we also carry outdoor telecom enclosures for any application! From small pole and wall boxes to oil field enclosures we can rack your 19″ and 23″ equipment in an NEMA certified outdoor telecom enclosures furnished with air-conditioning, fans, custom solar or battery power systems, and unique custom configured DC power systems.

Our outdoor cabinets are NEMA 4 and NEMA 4x Rated, but we can supply enclosures for multiple other standards. We want yo be your one-stop-shop for networking equipment whether indoor or outdoor telecom enclosures. Talk to our experts about integration and installation, or design and deployment today.
So, let us know how we can help you ensure that your business gets all the equipment it needs for indoor and outdoor environments and meets the requirements outlined in the PCI standard. Call us at 866-207-6631, visit our web site at www.rackmountsolutions.net or send us an email at sales@rackmountsolutions.net.