Posted by Rackmount Solutions on Jun 28th 2019
SKB cases are a great way to safely transport your valuable equipment to trade shows, convention centers, customer demos, and many more locations. Your equipment is valuable and shouldn't be compromised. SKB utility cases are used worldwide and extensively by the military. They are perfect for your disaster-recovery plans and protecting equipment in field offices, during moving, while shipping hardware to virtual users and anywhere you need a mobile solution for your computer system. SKB cases meet strict ATA and Mil-Standard specifications and ships to you for free via UPS ground service.
How to Find the Right SKB Transportation Case
With hundreds of options, how do you decide which transportation case you need? We'll break it down for you to ensure we have the right cases that fulfill your exact needs and requirements.
Additionally, SKB's Million Mile Warranty ensures that you can count on your case for life! Most savvy technicians are long past trusting a $5 corrugated box to protect their thousands of dollars worth of IT equipment and are instead using shock-absorbent rackmount shipping skb cases when sending servers and other sensitive pieces of gear from one site to another. Rackmount Solutions offers the complete range of rugged, heavy-duty SKB cases that come with the manufacturer's amazing Million Miles Warranty. This means if you somehow manage to break this case, it will be either repaired or replaced at no cost to you. This warranty is unbeatable and a good testament to how strong and durable SKB cases are.
Protect IT Equipment On The Move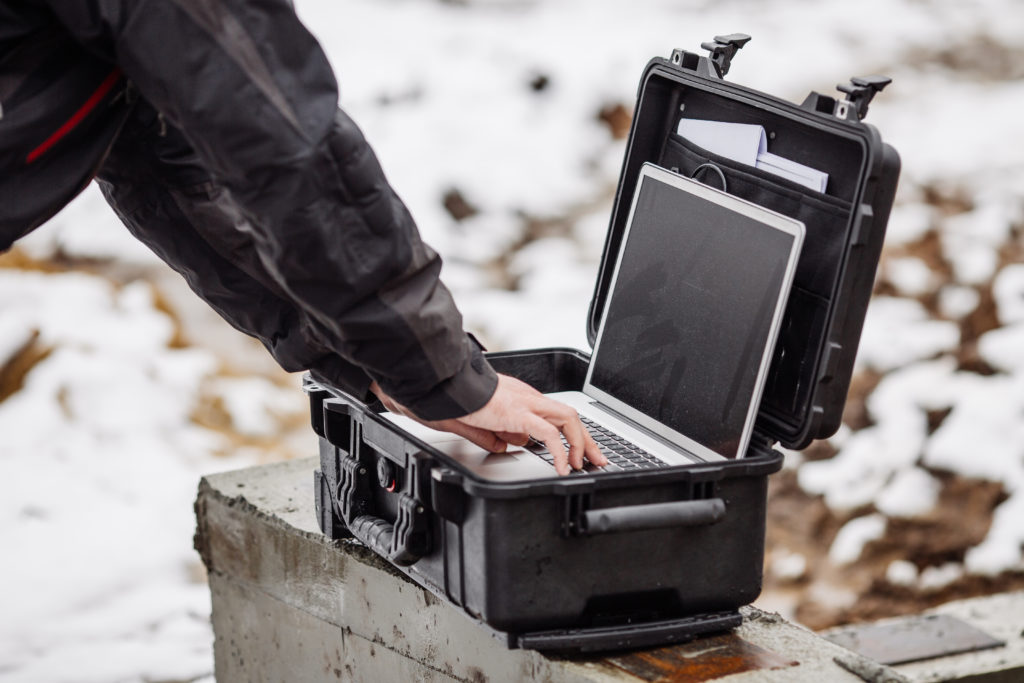 Here are some quick tips to remember when selecting the right SKB case for your specifications:
Accurate Measurement is Essential
Because it's important to choose the right sized case for your particular application, it is essential that you take accurate measurements when buying a SKB shipping case. It can be confusing measuring for one of these cases shipping case as 'front', 'back', 'depth' and 'width' can be relative terms depending upon the direction in which the case is packed or used.
SKB measures the rackmount and shockmount shipping cases just like a standard rack. The main difference is the molded protective case around the rack, which is not like a typical rack in your IT room. This means you may need to account for this protective case in your project. Once the front or rear lids are removed, the internal usable dimensions are measured by rack IU. The left to right measurement of standard EIA 19-inch width and depth by the distance from front to rear rail. It is important to know that an item can extend into the front or rear lid if necessary.
Don't Forget the Lid Measurement
Each SKB shipping case model features a different lid depth. It's important to understand the external dimensions of the case because if you are going to ship several cases whether stacking them or shipping them individually, you will need to know the cubic dimensions so you'll know how many will fit into the shipping area that's available. And even if you're not going to ship several cases, FedEx and UPS may charge according to dimensional weight rather than actual weight. You could end up getting a big, unwelcome surprise in shipping cost if you fail to account for dimensional weight.
The external dimensions of a SKB shipping case include the removable front & rear lid and the extra width and depth of the molded case surrounding the rack. To figure cubic directions when filling the crate or truck, multiply the external width by height and by depth.
A shipping case that is 24 inches high, 30 inches deep and 24 inches wide, will equal 17,280 cubic inches. An 8-foot wide truck bed that is 12-feet deep and 12-feet high is capable of holding 1,990,656 cubic inches. Then if you divide that number by 17,380 cubic inches, you will come to the conclusion that you can fit 115 cases inside that particular truck.
Looking For Case Dimensions
Our website displays the dimensions of each size and style of the SKB cases. Just remember to:
Measure inside dimensions like a regular rack
Measure external dimensions including the front and back lids
Measure dimensions in cubic inches if you are going to be stacking several cases in tight areas
Feel free to watch our video on How To Measure a SKB Rackmount Shipping Case
SKB Shock Racks
Shock Racks include isolators in all eight corners of the case, which protect equipment from shock and vibration. These racks are lightweight, watertight, dustproof, and heat and chemical resistant. Nothing is getting through this thing. These cases meet or exceed ATA and military specifications. Some of these cases are even available with built-in casters for increased mobility. Commonly used for trade shows, field testing, and even military applications.
3RR Series SKB Cases, with Slide-Out/Removable Server Racks, are patent-pending cases perfect for military field applications; they are portable, stackable, and most of all, practical! The rail system slides right out, file cabinet-style, and allows you to have complete access to your equipment, making installation and wiring a cinch. Oh, and just like the rest of our line of SKB military-grade cases, these cases meet most military and ATA specs, have an awesome Million Mile warranty, and ship free via standard methods! Check 'em out on our site for the full tech specs! We guarantee, if you work in the field, or are an installer or VAR for those who do, you've got a need for this SKB case.
Don't forget to check out our all-purpose transport cases as well, great for trade show displays, musicians' gear, laptops, and pretty much anything else you'd like to make it from Point A to Point B in one piece.
SKB Monitor Cases
Monitor Case are rotationally molded for maximum impact resistance to transport large flat screen monitors in an upright position. Can fit monitors from 20 to 60 inches. These cases include casters for easy transport, weather resistance gasketing, as well as heavy-duty twist-latches with a pad lockable latch on each side for security. Look up the word "safe" in the dictionary, and you'll find a picture of a monitor case.
SKB iSeries Cases
iSeries Cases are the most versatile of SKB cases. With 44 different sizes available this case can be used for many different applications. These cases are available either empty, or with cubed or layered foam, or padded dividers for the safe transportation of miscellaneous goods. Additionally, they are injection molded, military standard, waterproof and air tight. Excellent for transporting cameras, laptops, peripherals, and many other electronics. And if that wasn't enough, most cases can accommodate a TSA approved latch for easy transportation through airport security.
SKB transportation cases are guaranteed to keep your valuable technology safe in transport and in performance ready condition. Ruggedized and MIL-STD, these cases are made for a broad range of applications and can be used to protect the most simple or most complex technologies. And with SKB's Million Mile (Lifetime) Warranty, these protective cases are a great investment that can be used for years and years.
Do not hesitate to initiate a chat with our helpful IT Pros or contact the team at Rackmount Solutions at (800) 352-6631 if you need assistance in selecting the right SKB case for your needs, as we're always happy to help you!