Posted by Rackmount Solutions on May 21st 2019
Last year, Rackmount Solutions announced the development of customized Modular Data Centers for applications, including cell towers, limited real estate situations, remote locations, and quick turn time IT upgrades.
Tom Currier, CEO of Rackmount Solutions said,
"With the increased data demand from Internet of Things (IoT) applications, smart cities, and 5G deployments, we developed this flexible tailor-made product line offering to help clients more rapidly scale their infrastructure needs.We are now able to provide a fully customized solution that fits our client's specifications with the ability to scale up as demand increases later."

The new line of custom-built Flexible MDCs can be sized from 5 to 40 plus racks, power from 10kW to 500kW plus, and can include cooling and generators. Designed to be scalable, these units are available for delivery with a lead time of less than 12 weeks, providing an easy, quick and cost-effective data center solution. The MDCs can also be designed as portable units for mobile disaster recovery scenarios or large-scale events where temporary processing power is necessary.
"Anticipating the always-increasing demand for processing power, we designed these new customized MDCs to offer a more cost efficient and far more effective data center deployment. The market can now depend on securing computing capacity exactly where and when it's needed."


John Baker, Vice President of Business Development at Rackmount Solutions said.

It is with great pleasure that we announce our inclusion in CIOReview's 20 Most Promising Data Center Solution Providers for 2019! This list is an annual review of 20 companies that are at the forefront of providing data center solutions and impacting the marketplace.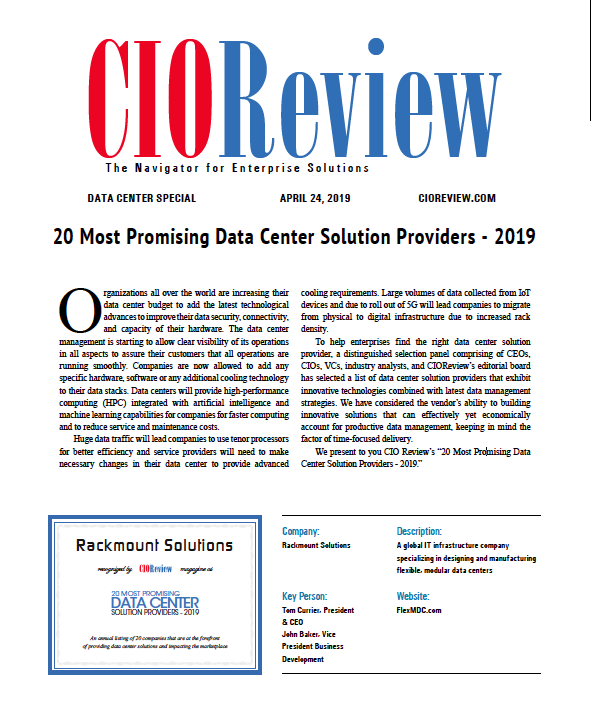 From the article:
"Once 5G is up and running it will take us through the next three to five years in terms of the offerings that we are bringing to market"


says Currier. With 5G's promising speed and faster response rates, it will really be the catalyst, which will bring rapid deployment of MDCs over the next several years. Traditional large scale data centers have used AC power as their main source; Rackmount Solutions believes that future data centers will consider DC power and plans to evolve and focus on bringing more DC powered products—particularly in the 48-volt space—to market.
"The efficiencies with DC power over AC are numerous, and we are seeing more and more equipment coming to the market being directly powered by DC"


says Baker. In the data center space, new technologies are on the horizon with better insulation methods, improved UPS and battery technologies for longer backup times. Rackmount Solutions promises always to be ahead of the market and at the forefront by offering technologies that are the cutting edge so that its customers can move away from traditional data centers.
See what makes FlexMDC different at FlexMDC.com.
For more than 15 years, Rackmount Solutions has provided Server Racks, Server Cabinets, Cooling Solutions, Outdoor Enclosures, Batteries, Integrated AC and DC Power Systems, along with installation and maintenance services for the Datacom and Telecom industries.
As an ISO certified and Inc. 5000 company, Rackmount Solutions has a well-established track record of customer service and product performance. The Rackmount Solutions team is comprised of experts delivering custom solutions designed to fit your exact needs, both on time and on budget.