Posted by Rackmount Solutions on Jul 15th 2020
Powering up your data center with power strips and PDUs! At Rackmount Solutions, we carry rack mount power strips that are 15, 20, and 30 amps, and our PDUs will monitor your equipment and provide surge protection. Our large selection of high-quality rack mountable power strips and PDUs has been proven to succeed in the most demanding mission critical server array.
Power Solutions: Power Strips and PDUs That Provide High Quality Power and Surge Protection
Power Strips:
Surge Protected and Non-Surge Protected
Basic power strips come in two main types: non-surge protected and surge protected. If you are plugging the strip into a UPS, you'll want a non-surge protected power strip, since the UPS will provide the surge protection you need. It is important to note that it can even be detrimental to plug a surge protected power strip into a UPS. If you're plugging the power strip into the wall then you'll want a surge-protected strip.
Rack Mounted or Vertical
Power strips come in two orientations: horizontal (rack mounted) or vertical. This is purely preference, but typically our customers prefer vertical strips for taller cabinets because it allows easy access to the receptacles. For the horizontal rack power strips there are even more options including pilot light, surge protection, and digital ammeter. These basic power strips are generally 15 amps or 20 amps. Vertical power strips can be mounted to your rack with a simple clip.
PDUs (Power Distribution Unit)
Functions
Although some people use the terms power strip and PDU interchangeable, PDU generally refers to a power strip with additional functionality (although there are basic PDUs!). Some of the additional functions include either local or remote monitoring, as well as remote management of the power strip, sometimes even down to the outlet level. The industry terms for these functions are usually Basic, Metered (local meter on the strip), Monitored (remote monitoring over the web), and Switched (remote management over the web). Some rack PDUs are dual circuit, which means there are two separate power circuits in the strip. This is ideal for equipment that has redundant power supplies.
Amps and Volts
PDUs are available in a range of amperages, ranging from 15 amps to 60 amps, and in both single-phase and three-phase. Most small or mid-sized commercial buildings use single-phase power, while three-phase power is more frequently seen in larger commercial and industrial facilities, or data centers. Additionally, PDUs are available in either 120 volts or 240 volts. Some Power Distribution Units have additional ports that can accept probes for environmental monitoring such as temperature and humidity in your rack environment. PDUs are available with either NEMA style receptacles, or IEC style receptacles, depending on your needs.
No matter what your needs are, we have hundreds of rack power strips and rack PDUs that are sure to keep your critical equipment running at its best. And if you don't see what you're looking for then we can help you design a custom rack power strip to meet your exact needs for your data center. There is no shortage of power options at Rackmount Solutions! We even sell power solutions from a variety of manufacturers such as Hammond, Middle Atlantic, Austin Hughes, and Wiremold-Legrand. We also manufacture our own Rackmount Solutions brand power strips and PDUs, which are on hand and ready to ship!
---
UPS Checklist
I'm more optimistic than pessimist, but that doesn't mean I'm going to ignore the probability of power outages, surges, and spikes in my data center. By planning ahead and making sure that your UPS systems are prepared you can align quite a bit more protection for you and your data.
Power and Load Capacity Start with the basics. Figure out the amount of uptime desired and kW load that would be needed. If your current UPS doesn't live up to the goals you've outlined, it's time to get on the hunt for one that does.
UPS Features Whatever UPS you have, it needs to be able to handle virtually any power anomaly. Study the configuration, and the redundancy options for the UPS and always consider an Energy Star Rated version as these units can certainly save you quite a bit in energy costs throughout the year.
Unit Protection The manufacturer warranty is going to be worth it's weight in gold, so narrow your list of UPS options based on the warranty. But in doing so make sure you read the fine print as there are typically requirements associated to void the insurance and warranty.
Modular Design As quick as technology expands in a data center it's best to look for a UPS that is based on a modular design. You always want to plan for future growth and even the unexpected future equipment that could be integrated. Having a modular design will allow you more flexibility and reduce future costs.
We know that some customers have never purchased a UPS before and need help from start to finish. We're here to help in any way we can. Talk to an expert at Rackmount Solutions by calling 1-800-352-6631
---
Understanding our Power Strips
To the untrained eye, our rackmount power strip part numbers may look like a jumble of numbers and letters, but there's a method to our madness. As a matter of fact, each character in the part number tells you a specific detail about the unit. Let's break down each of the characters in our rackmount power strip part numbers by analyzing the bolded portion of the name.
RMS620a
RM stands for "rackmount". Unlike vertical power strips, rackmount power strips are perfect for when you need to have a strip closer to your equipment. All of our rackmount power strips have RM at the beginning of the part number. You may notice some with an S afterwards. The S indicates that the unit has surge, noise and thermal protection on all three modes: L-N, L-G and N-G.
RM615a-F, RM815a, RM1415a-PL
Next is the number of outlets on each unit. Our rackmount power strips come with outlets either on the front, the back, or in one case, both! From a standard 6 outlet model to a whopping 14 these power strips are versatile enough for any job.
RMS815a, RM620a
The number of amps follows the number of outlets. This number will consistently be either 15a (15 amps) or 20a (20 amps). If you are unfamiliar with the difference in 15 amp and 20 amp power refer to this great video breaking down how simple it really is. Overall 15 amp receptacles fit standard household plugs, while 20 amp is a high current receptacle. The 20 amp units can support both 20 amp and 15 amp devices, while the 15 amp can only support 15a.
RM615a-F–AM
Parts with a –F have outlets on the front of the unit instead of the back. If there is no –F, the outlets are on the back. The –AM in part numbers signifies units that have a digital ammeter on them, for monitoring current draw.
RM620a-AM-PL
Finally, units with a –PL come with a pilot light to indicate that the unit is functioning properly. Units without –PL come with a lighted on/off switch instead.
While not included in the part number, there are also several units that feature 90 degree rotated outlets, perfect for accommodating transformers. Some units also have a -15 after the part number, this indicates the unit has a 15 foot power cord for extended range on your rack.
---
What a Smart PDU Might Mean to You
At Rackmount Solutions, we believe that smart PDU's are one of the most cost-effective means for data center managers to manage and reduce their energy costs. There are certainly other methods – utilization of biofuels, fuel cells, hydropower, solar and wind energy – but none of these technologies can approach the cost/overall savings return of a smart PDU.
REDUCE SERVER ENERGY CONSUMPTION
In their study, "Energy Logic: Reducing Data Center Energy Consumption by Creating Savings that Cascade Across Systems", Emerson Network Power determined that servers use the most energy (44%) of any single data center component. And, that by reducing server energy utilization 1 watt, the cascading effect across the data center (power distribution, UPS, cooling, building switchgear/transformer) resulted in nearly 3 watts of overall power savings.
SMART PDUs ARE … SMART
That's why we're so high on smart PDU's. Smart PDU's (when coupled with power management software like Eaton's Power Manager™ or Power Xpert™) allow data center professionals to monitor and manage:
Power consumption at the outlet

Power switching at the outlet level (on/off/reboot)
They also enable data center professionals to:
Determine which circuits/servers have additional power available that could be used elsewhere

Limit power consumption of specific servers/cabinets

Cap power utilization
Using these tools – smart PDU's and management software, data center professionals can realize, depending upon the size and scope of their implementation, thousands of watts of power savings in just a few weeks. And, considering that prices for smart PDUs begin at just a few hundred dollars, the Return on Investment (ROI) for a smart PDU can be just a few months.
What might a smart PDU mean to you? Significant energy and monetary savings!
---
PowerLOK Monitored PDUS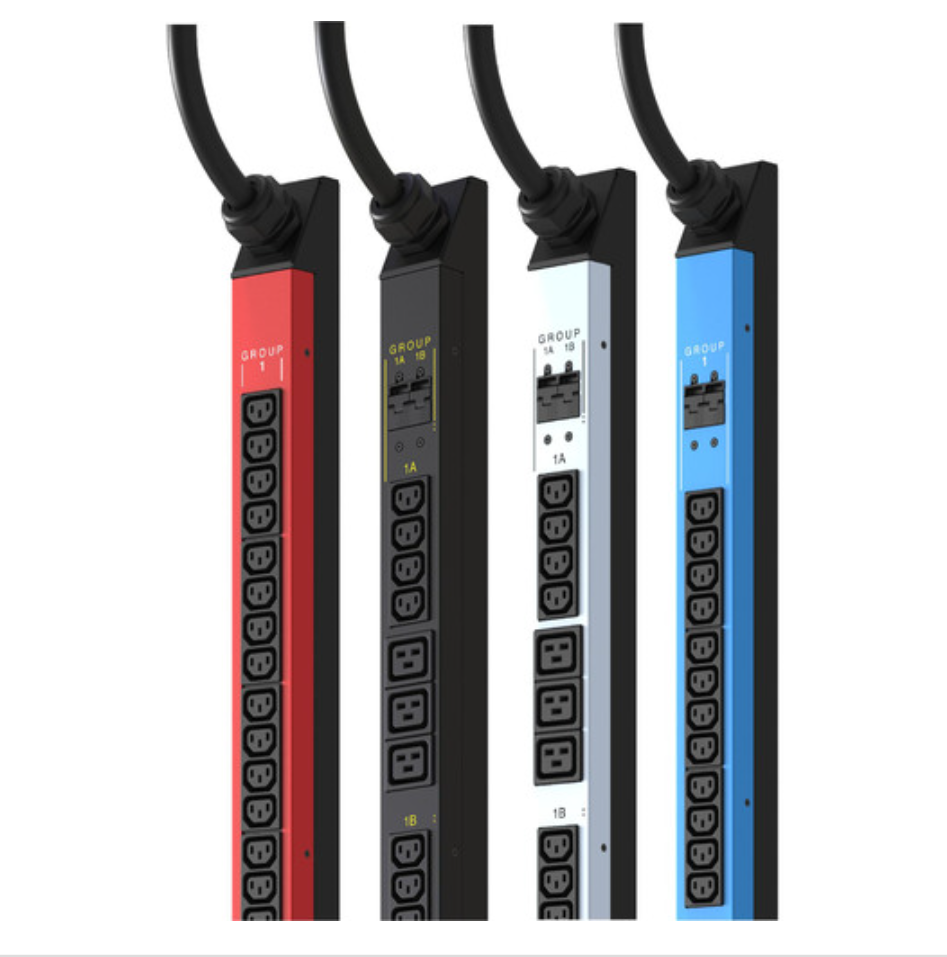 Compared to other Rack PDUS, Rackmounts PowerLOK's offer many advantages such as:
Higher reliability with machine soldered connections from line input to each receptacle.
0.5% accuracy and a completely buttonless touch-screen display on monitored models.
Same day shipment of 34 different 20-30A models. That's 3x what other leading manufacturers offer.
Build and configure your own rack PDUs and ship in 10 days. (Orders greater than 24 units.)
Choose from one of four colors at no additional cost on Build Models.
PowerLOK has the greatest receptacle density in the industry with measures only 2.18" wide x 2.0" deep– 48C13s, 24C13s & 18C19s, or12C13s & 24C19s on a 72" rack PDU.
Many more high-density receptacle options are available. Group markings are highly visible, and receptacles have a low profile to protect them from impact. PowerLOK's input whip is angled toward the server rack exit to improve access to the rear of servers. Select from four colors at no additional cost for orders over 24 units.
There are many options available that provide more high-density receptacles. With highly visible group markings, receptacles have to protect their impact with low profiles. With the input whip of the PowerLOK's being directed at the exit of the server rack, there is an enhanced access to the back end of the servers. Rackmount offers 4 colors and with orders that exceed 24 units, there is no additional cost.
With a 3x less likelihood of failure compared to the most competitive units, Rackmounts' PowerLOK's are highly efficient. Our automated machine soldering from line input to each receptacle eliminates all types of mechanical connections.
If you are looking for particular model or version of these power strips, contact us or shop online today!
To see our complete line of PDU's click: http://www.rackmountsolutions.net/PDU.asp or call us toll free 1-866-207-6631.